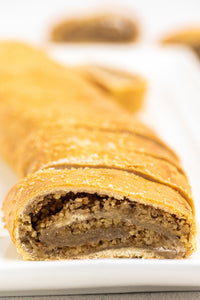 Old Fashioned Long Nut Roll
Our Old Fashioned Long Nut Rolls are hand rolled and loaded with butter, sugar, and ground walnuts. They are topped off with an egg wash and raw sugar.  This will give you the nostalgic remembrance of your Grandma's kitchen! 
We are happy to box this for you if you are wishing to send this as a gift. Please indicate in the notes section so we can serve you correctly.