A Sweet Morsel Co. Birthday Party Package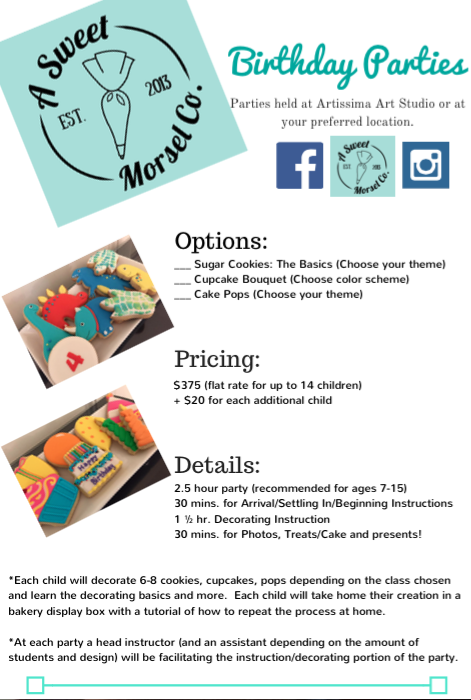 A Sweet Morsel Co. Birthday Party Package
We would love to be a part of your celebration! It is best to message us before purchasing to make sure the location and date are still open in our calendar. We can't wait to meet you!
Birthday Party Packages
Options:
___ Sugar Cookies: The Basics (Choose your theme)
___ Cupcake Bouquet (Choose color scheme)
___ Cake Pops (Choose your theme)
Pricing
:
$375 (flat rate for up to 14 children)
+ $20 for each additional child
2.5 hour party (recommended for ages 7-15)
30 mins. for Arrival/Settling In/Beginning Instructions

1 ½ hr. Decorating Instruction

30 mins. for Photos, Treats/Cake (provided by you) and presents!
*Each child will decorate 6-8 cookies, cupcakes, pops depending on the class chosen and learn the decorating basics and more. Each child will take home their creation in a bakery display box with a tutorial of how to repeat the process at home.
*At each party a head instructor (and an assistant depending on the amount of students and design) will be facilitating the instruction/decorating portion of the party.
__________________________________________________________________________
Add Ons from A Sweet Morsel Co.:
____ $55 Party Plate of Cookies (15 large cookies, 1 logo/message cookie, 1 dozen mini)
____ $40 Cupcake Bouquet/Basket (15 flower decorated cupcakes arranged)
____ $36 Cookie Cups or Cupcakes (15 decorated to the theme of the party)
____ $35 Cake (9 in. round)
What
:
If you are hosting your party at your home or own venue, you will want to have table space and chairs for each guest. We will bring everything else required for the party you chose.

To have your event at Artissima Art Studio (local to the greater Pittsburgh, PA area), it is first come first served and books quickly. Call us now! This is a great space set up with everything you need for your event! Check it out here:

https://artissimastudio.com
When
:
Please contact Casey of A Sweet Morsel Co. to discuss availability of dates/times. Booking is first come, first served.
Considerations when using our preferred venue:
BYOB

: You may bring food, drinks, snacks, cake, etc… A fridge and ice buckets are available for use. You're encouraged to use A Sweet Morsel Co. for your baked good needs as we will have everything ready for you and coordinating with your event.

Materials

: Everything needed to decorate is provided.
Payment
:
One person pays

: A security deposit of $150 is due to book the event/date. Payment in full is due 5 days prior to the event. You may pay online or with a check.

Individuals pay

: Should the party be cancelled prior to 5 days prior to the event, a $150 fee will be charged the the organizers credit card. Should the party be cancelled less than 5 days prior, there will be no refund issued for the cost of the entire event.